Sponsored by Kyowa Kirin
Kyowa Kirin sponsor 2 of our Palliative Care CPD modules, which can be accessed for free: Gastrointestinal Effects of Cancer and Palliative Care for Palliative Specialists and Management of the Effects of Palliative Treatment for Palliative Nurses. These modules have been independently developed by StudyPRN. Kyowa Kirin has had no editorial control over the content, and has reviewed the content for medical and factual accuracy only.
Palliative Care CPD | Course Overview
41 Questions
Consisting of 3 individual CPD modules challenging your clinical knowledge of palliative care and improving your management skills.
Expert Authors
Each CPD module has been written by medical experts in palliative medicine, ensuring you receive the highest quality questions available.
Instant Feedback
Receive further reading and a full explanation of answers to ensure your knowledge and understanding is in line with current guidelines.
Compare Responses
View peer responses, reflect using our online notes system and benefit from unlimited resits to keep your clinical knowledge up-to-date.
24/7 Access
Learn around your busy schedule and access your modules whenever and wherever you'd like - all you need is an internet connection!
CPD Certificate
On successful completion of each individual module, you'll be awarded with a downloadable 1 hour CPD Certificate to include in your portfolio.
Money-Back Guarantee
Purchase with confidence knowing that we offer a 21 day, 100% satisfaction money-back guarantee.
---
Palliative Medicine CPD | Modules Covered
Our Palliative Care CPD course consists of the following 3 modules, which are designed to test your clinical knowledge and management of palliative care. Once you complete a CPD module on this course, and achieve the minimum pass rate of 60%, you'll be awarded with a downloadable 1 hour CPD Certificate to include in your annual CPD portfolio.
Of the modules listed below, 2 are sponsored by Kyowa Kirin and are entirely free to access. Alternatively, you can purchase the Pain Management CPD module separately for £8.00, or purchase the entire Palliative Medicine CPD course for £5.00.
---
CPD Certificate | Sample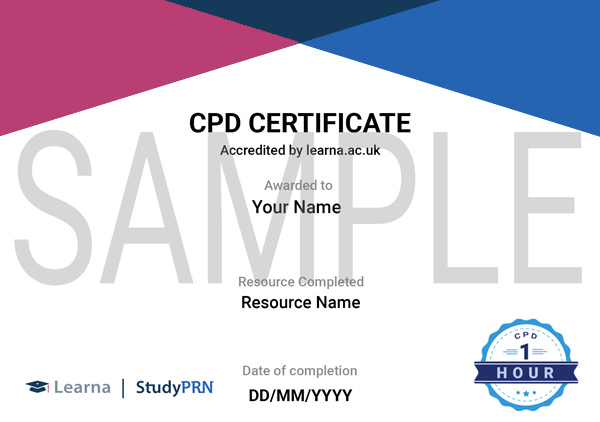 Module Title & Completion Date
Accredited by learna.ac.uk
Rewarded on 60% Pass Mark
One Hour of CPD
One Year Validity
Downloadable PDF Certificate
Print or Upload to CPD Portfolio
---
35
4.1
Palliative CPD | Customer Reivews
Extensive Detail
1 of 5
"Excellent. Both the case studies and the rationale went into extensive detail."
Helen Baxter | HCP
2nd Apr 2021
Great Mix
2 of 5
"Great to mix palliative care and general medicine - think beyond the specialty."
Dr Brendan O'Neill | Doctor
26th Oct 2018
Very Good Program
3 of 5
"Thank you for the help, a very good educational program."
Marites Rellora | CNS
21st Jun 2018
Really Helpful
4 of 5
"Thank you for the courses - it is really helpful to update my knowledge and skills."
Ancy Saji | Nurse
12th May 2018
Excellent Resource
5 of 5
"This has been an excellent resource for myself and extremely useful."
Denise Shepherd | Nurse
9th Feb 2018
Previous
Next